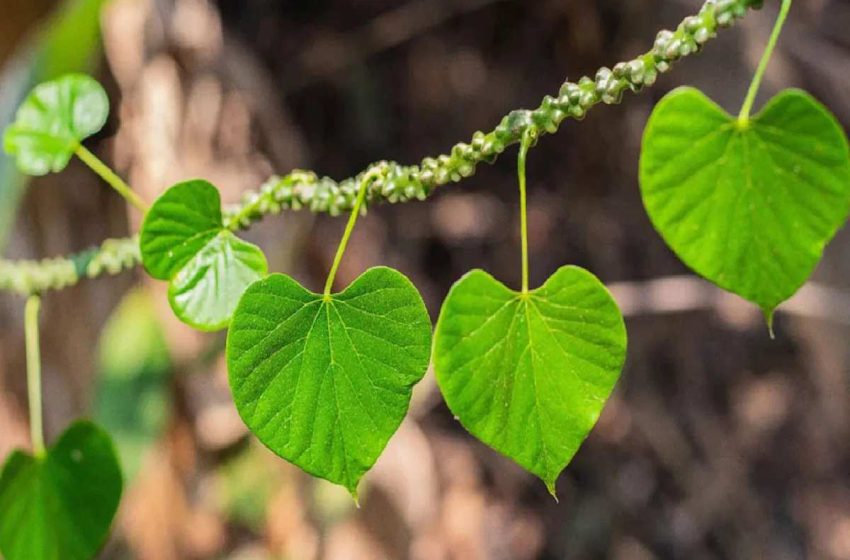 Tippa Teega
The scientific name of Tippa Teega is Tinospora cordifolia (Family: Menispermaceae) with many familiar names (English: 'Heart-leaved Moonseed,' 'Indian Tinospora,' 'Heart- Leaved Tinospora.'
Many plants found in nature do good to humanity. No one knows much about the many types of plants around us Tippatiga is one such plant. It grows extensively in and around our home. But many are unaware of the consequences.
Thippathiga is primarily used in the preparation of Ayurvedic medicines. It is called Giloi in English and Amrita in Sanskrit. I can see the catfish in the fields and on the fences. It is a perennial herbaceous medicinal plant. It is evergreen and climbs trees.
Hindi: Giloy, Giloya, Guduchi, Gulancha, Gulbel
Kannada: Amrutha balli, Madhuparni, Ugani
Konkani: Amritvel; Malayalam: Amruthu, Chittamruthu
Marathi: Gulvel
Tamil: Seendilkodi, Shindilakodi;
Telugu: Manapala, Tippa teega
Sanskrit: Guruchi
Urdu: Gurch
How Tippa Teega/Tinospora cordifolia works?
Tippa Teega /Tinospora cordifolia contains many different chemicals that can affect the body.
Basically, some of these chemicals have antioxidant effects. Others can boost the body's immune system. Certain chemicals may have activity against cancer cells in experimental animals.
However, most of the research has been done in test tubes or on animals. And also, there is not enough information to know about the effects of Tinospora cordifolia on the human body.
Medicinal uses and Health benefits of Chittamruthu
The stem of the Amruth plant is used as a remedy in Ayurveda and traditional medicine. It contains an alkaloid called berberine.
Can regulate body temperature. According to Ayurveda, Amruthu works against fever. So, it is also called Indian Quinine.
It can cleanse the blood and body by eliminating toxins, help cleanse the kidney.
And also, it can also cure kidney ailments.
Effective against diabetes and Arthritis.
Other Benefits of Tippa Teega (Chittamruthu):
Firstly, the crushed leaves of Tippatiga increase immunity. Secondly, it protects us against seasonal fevers, diseases, and infections. The anti-biotic, anti-viral, and anti-fungal properties of aphids destroy the germs that enter the body. And also, Tippatiga leaves powder mixed with jaggery taken daily reduces indigestion. It improves digestive function.
People with diabetes can lower their blood glucose levels by taking Tippatiga powder regularly in the morning and evening. Basically, those prone to stress and mental anxieties will get the result if they take Thippathiga powder daily. Memory also increases.
For people with respiratory snags such as colds, coughs, tonsils, etc., the result will be good if you use Tippatiga powder. However, add a little crushed turmeric and ginger juice in lukewarm milk and drink it twice a day to reduce joint pain.
Eliminates fat accumulation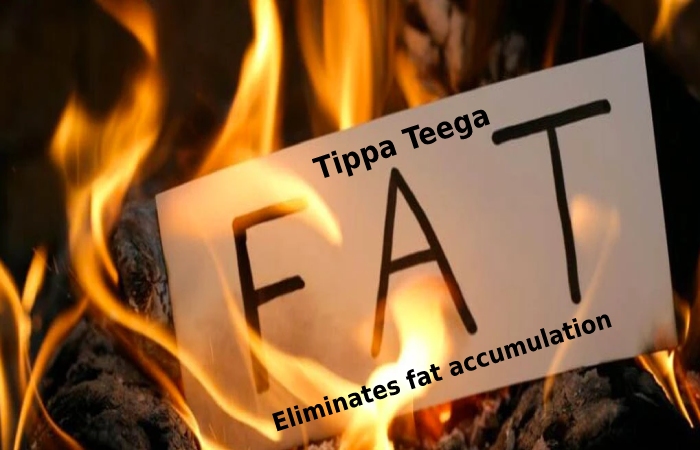 Guduchi keeps the body's metabolism on its toes so that fat does not get a chance to be stored in the body. Instead, it is used up in the form of energy, keeping the body active and healthy.
Improves the functioning of the digestive system
As a powerful antioxidant, Guduchi removes toxins from the gut, thus improving the digestive system. However, it promotes quicker digestion, removing instances of bloating and gas.
Prevents obesity
By promoting quicker digestion and preventing fat accumulation inside the body, Guduchi acts as a potent prevention technique for obesity.
Tippa Teega/Tinospora cordifolia Uses and Efficiency
Possibly effective for Hay fever
A particular extract of Tinospora cordifolia (Tinofend, Verdure Sciences) appears to relieve sneezing, nasal itching, and nasal congestion after about 2 months of treatment.
Insufficient evidence for:
Leg ulcers in people with diabetes. Early research suggests that taking Tinospora cordifolia with other medications prescribed by your doctor may help you heal diabetic foot ulcers faster.
Athletic performance. Preliminary research suggests that taking Tinospora cordifolia stem extract does not improve speed or strength in healthy men.
Itchy skin infection caused by mites (scabies). Preliminary research shows that applying a lotion containing Tinospora cordifolia can alleviate the symptoms of scabies. It appears to be
Tippa Teega side effects
Ingestion
Tinospora cordifolia is POSSIBLY SAFE when taken for up to 8 weeks. For some people, this can cause headaches or pain in the nose. However, there is not enough reliable information to know if it is safe to use Tinospora cordifolia for more than 8 weeks or what the side effects might be.
Skin application
There is insufficient reliable information to know if Tinospora cordifolia is safe to use while pregnant or breastfeeding. Be careful and avoid using it.
Tippa Teega / Tinospora Cordifolia is a Medication for diabetes (antidiabetic drugs)
Basically, Tinospora cordifolia can lower blood sugar levels; medications for diabetes are also used to lower blood sugar levels. And also, taking Tinospora cordifolia together with diabetes medications can cause blood sugar levels to be too low. Monitor your blood sugar closely. However, the dose of your diabetes medicine may need to be changed.
Some medications used to treat diabetes include glimepiride (Amaryl), glyburide (DiaBeta, Glynase PresTab, Micronase), insulin, pioglitazone (Actos), rosiglitazone (Avandia), chlorpropamide (Diabinese), glipizide (Glucotrol and others), orinutamide.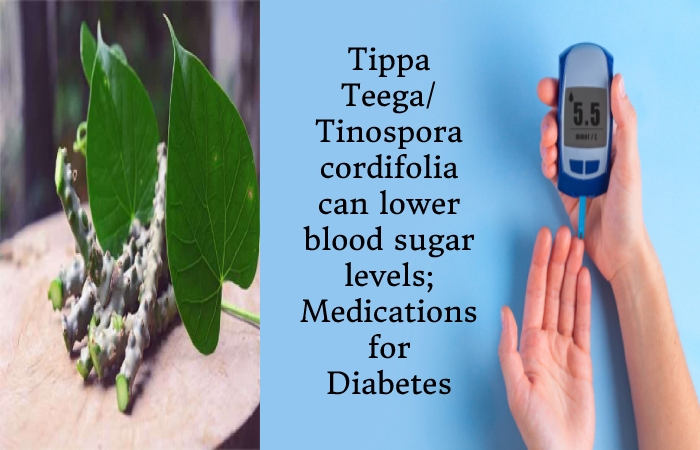 Medicines that lower the immune system (immunosuppressants) interact with Tippa Teega /Tinospora Cordifolia
Basically, Tinospora cordifolia can strengthen the immune system. Taking it along with certain medications that lower the immune system can reduce the effectiveness of these medications.
Some drugs that lower the immune system include azathioprine (Imuran), basiliximab (Simulect), cyclosporine (Neoral, Sandimmune), daclizumab (Zenapax), muromonab-CD3 (OKT3, Orthoclone OKT3), mycophenolate (CellCept) (FK506imus).
(FK506) (FK506) (FK506), sirolimus (Rapamune), prednisone (Deltasone, Orasone), corticosteroids (glucocorticoids), and others.
However, PMW Tippa Teega powder (100 g) is available on Flipkart. And also, PMW Tippa Teega Shindilakodi Gudichi Amrutha Balli (300 g) is available on Amazon
Tippa Teega/Guduchi/Giloy the plant is available on Indiamart
Minimum Order Quantity 10 Plant
Giloy has impressive medicinal properties; it has anti-diabetic, anti-cancer, anti-HIV, anti-stress, antispasmodic, anti-arthritic, anti-inflammatory, antioxidant, anti-microbial, antitoxic, anti-allergic, antipyretic, anti-malarial.
Giloy Plant – Gulvel Plant, Tinospora Cordifolia (Tippa-teega, Shindilakodi, gurcha, Amruthu) available at Indiamart
Basically, it is a bare climbing shrub found throughout India, commonly found in deciduous and dry forests. The leaves have a heart shape. However, the succulent bark is creamy white to grey, with deep, lentil-covered fissures. It has long, slender aerial roots and is often grown on mango or neem trees.
And also, the flowers are yellow and grow in loose clusters from knots in old wood. The fruits are drupes, and when they mature, they turn red.
Also Read: Wildcraft Super Mask W95+ -Benefits of Mask W95+during Covid-19
Related Searches:
[Tippa Teega]
[Tippa Teega uses]
[ Tippa Teega benefits]
[Tippa Teega plant]
[Tippa Teega]
[Giloy in English]
[Tippateega]
[Thippatheega]
[Amrutha valli]
[Tippa Teega uses]
[Giloy meaning in marathi]
[Guduchi in telugu]
[Chittamruthu]
[Guduchi powder]