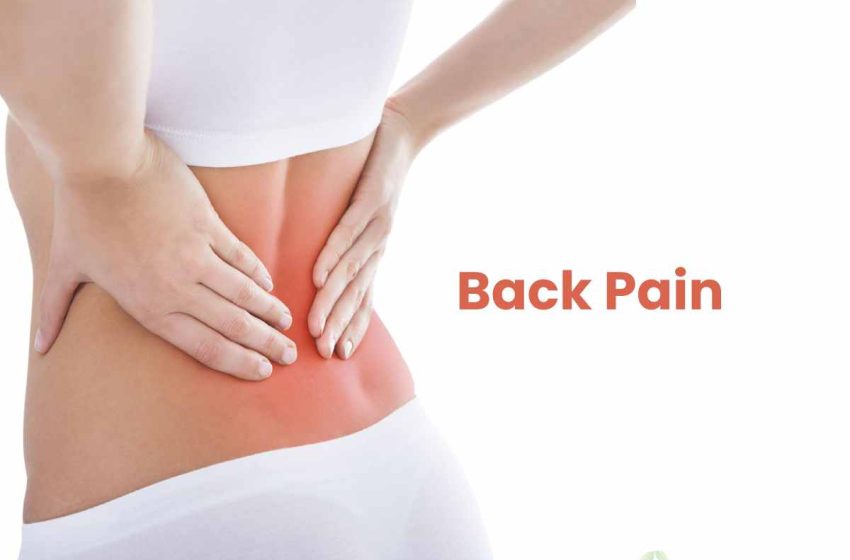 Back Pain
Introduction:
Back pain is a common ailment that affects millions of people worldwide, causing discomfort, limited mobility, and a decrease in overall quality of life. While severe and chronic back pain should be addressed by medical professionals, there are several effective methods to alleviate and manage mild to moderate back pain in the comfort of your own home. This article aims to explore the fastest ways to relieve back pain and provide practical home treatments that can help individuals find relief and promote healing.
Apply Heat and Cold Therapy:
Heat and cold therapy are two simple yet effective methods to reduce back pain. Applying a heating pad or a warm compress to the affected area can increase blood flow, relax muscles, and alleviate stiffness. Cold therapy, on the other hand, helps reduce inflammation and numb pain. Ice packs or frozen gel packs can be wrapped in a cloth and applied to the painful area for 15 to 20 minutes. Alternating between heat and cold therapy can provide additional relief.
Practice Gentle Stretching and Exercise:
When experiencing back pain, it is essential to stay active and engage in gentle stretching and exercise routines. Simple stretches like knee-to-chest, cat-camel, and pelvic tilts can help relieve tension and improve flexibility. Low-impact exercises like walking, swimming, and yoga are also beneficial for strengthening core muscles, promoting good posture, and reducing the risk of future back pain episodes.
Maintain Proper Posture:
Maintaining good posture while sitting, standing, and walking is crucial for preventing and relieving back pain. Slouching or hunching over can strain the back muscles and lead to discomfort. When sitting, make sure your feet are flat on the floor, your back is supported, and your shoulders are relaxed. When standing, distribute your weight evenly on both feet and avoid excessive leaning forward or backwards.
Use Supportive Pillows and Mattresses:
Investing in supportive pillows and mattresses can make a significant difference in relieving back pain. Pillows that provide adequate neck and lumbar support help maintain proper spinal alignment during sleep. Similarly, a medium-firm mattress can alleviate pressure points and promote optimal spinal positioning. It is essential to replace worn-out mattresses and pillows to ensure proper support for the back.
Practice Mindfulness and Stress Reduction Techniques:
Stress and anxiety can exacerbate back pain and prolong recovery. Engaging in mindfulness techniques such as deep breathing exercises, meditation, and progressive muscle relaxation can help relax the mind and body, reducing tension and alleviating pain. Additionally, participating in activities that bring joy and relaxation, such as hobbies, listening to music, or spending time in nature, can contribute to overall well-being and aid in pain relief.
Maintain a Healthy Weight:
Maintaining a healthy weight is vital for back health. Excess weight puts strain on the spine, leading to increased [pain and discomfort. By adopting a balanced diet and engaging in regular physical activity, individuals can achieve and maintain a healthy weight, reducing the burden on the back muscles and joints.
Back Pain treatment
Back pain treatment varies depending on the cause and severity of the pain. Mild to moderate back pain can often be managed with self-care measures. This includes rest, activity modification, and the use of over-the-counter pain relievers such as nonsteroidal anti-inflammatory drugs (NSAIDs). Applying heat or cold therapy to the affected area can also provide temporary relief. Physical therapy may be recommended to strengthen the muscles, improve flexibility, and correct posture. In some cases, a healthcare professional may prescribe stronger [pain] medications or recommend injections to reduce inflammation. Additionally, alternative therapies such as chiropractic care, acupuncture, or massage therapy may be beneficial for certain individuals. It is important to consult with a healthcare professional to determine the most appropriate treatment plan based on the specific needs and underlying cause of the back pain.
Use Over-the-Counter Pain Relievers:
Over-the-counter pain relievers can provide temporary relief from back pain. Nonsteroidal anti-inflammatory drugs (NSAIDs) such as ibuprofen or naproxen sodium can help reduce [pain] and inflammation. However, it is important to follow the recommended dosage and consult a healthcare professional if the pain persists or worsens.
Employ Ergonomic Strategies:
Ergonomic strategies aim to optimize the work environment to reduce strain on the back. When sitting for extended periods, using an ergonomic chair with proper lumbar support, adjusting the height of the chair and computer screen, and taking regular breaks to stretch and walk can alleviate back [pain] caused by prolonged sitting. Similarly, using lifting techniques that engage the legs and core muscles rather than the back can prevent injuries and subsequent pain.
Conclusion:
While back pain can be a frustrating and debilitating condition, there are several effective ways to find relief and promote healing at home. By implementing these strategies, including heat and cold therapy, gentle stretching and exercise, maintaining proper posture, using supportive pillows and mattresses, practicing mindfulness and stress reduction techniques, maintaining a healthy weight, utilizing over-the-counter [pain] relievers, and employing ergonomic strategies, individuals can alleviate back [pain] and improve their overall well-being. However, it is essential to consult a healthcare professional if the [pain] persists or worsens to rule out underlying conditions and ensure appropriate treatment. Remember, everyone's body is unique, so finding the right combination of treatments may require some trial and error.