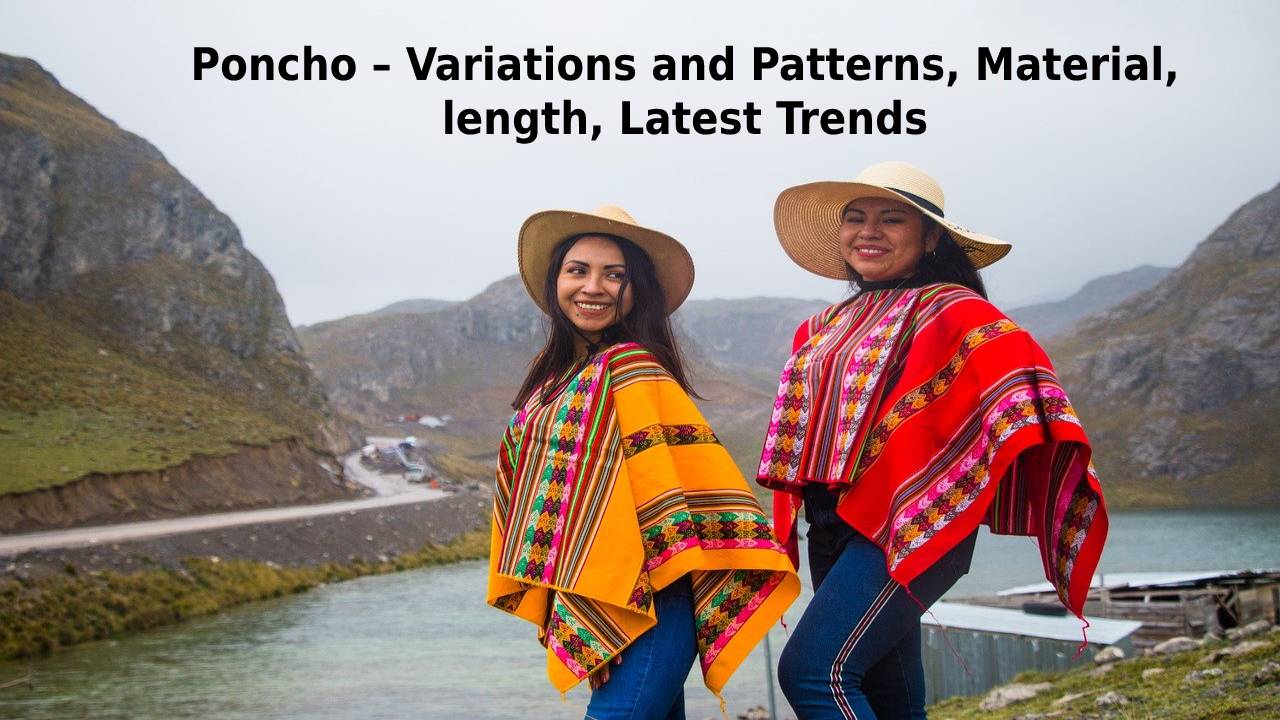 What is a Poncho?
A poncho is a traditional coat of South America. This garment, which can have different shapes (triangular, circular, square, etc.), has an opening in its central part for the person to insert his head.
This way, the Poncho covers you from shoulders to waist or legs.
In short, it is a kind of blanket which, thanks to its central opening, can be attached to the body while offering a wide range of freedom of movement.
Its fabric (usually made of wool) falls on the individual, who can easily pull out his arms at the ends.
One of the women who managed to give an international presence to this outerwear is, without a doubt, the Mexican singer Chavela Vargas (1919 – 2012).
She specialized in ranchera music and was known for always wearing a different coloured poncho in her performances.
The locals of the Andean region created Ponchos. Over time, they added the clothing of the criollos.
In each country, there is a traditional variety of them made with different materials and styles.
Although it is not a garment used too much in urban settings, the Poncho is still very popular in rural areas.
Variations and patterns of Poncho
They differed in colour and pattern in every nation, tribe and tribal community.
In modern fashion, ponchos were firmly established in the sixties and seventies of the last century and underwent various transformations.
However, only the neck for the head and the absence of sleeves remain unchanged.
It is once again experiencing the peak of its popularity in the last few seasons of fashion.
Designers offer all kinds of poncho variations and patterns as an alternative type of outerwear for women with individual style.
Moreover, this item of clothing looks very feminine and elegant.
1. Original ponchos
In a casual style, it is made from thick fabrics, wool, knitted or knitted fabric.
Considered a great alternative to a cardigan or pullover.
Such models can be both in a classic poncho and with a sleeve, slits for the hands, the presence of pockets, hood, high collar, different and asymmetrical lengths.
2. Bridal ponchos
Bridal ponchos are available in silk, satin, lace, wool, and fur remain popular for many years. Poncho for the youngest fashionistas is also at the peak of fashion.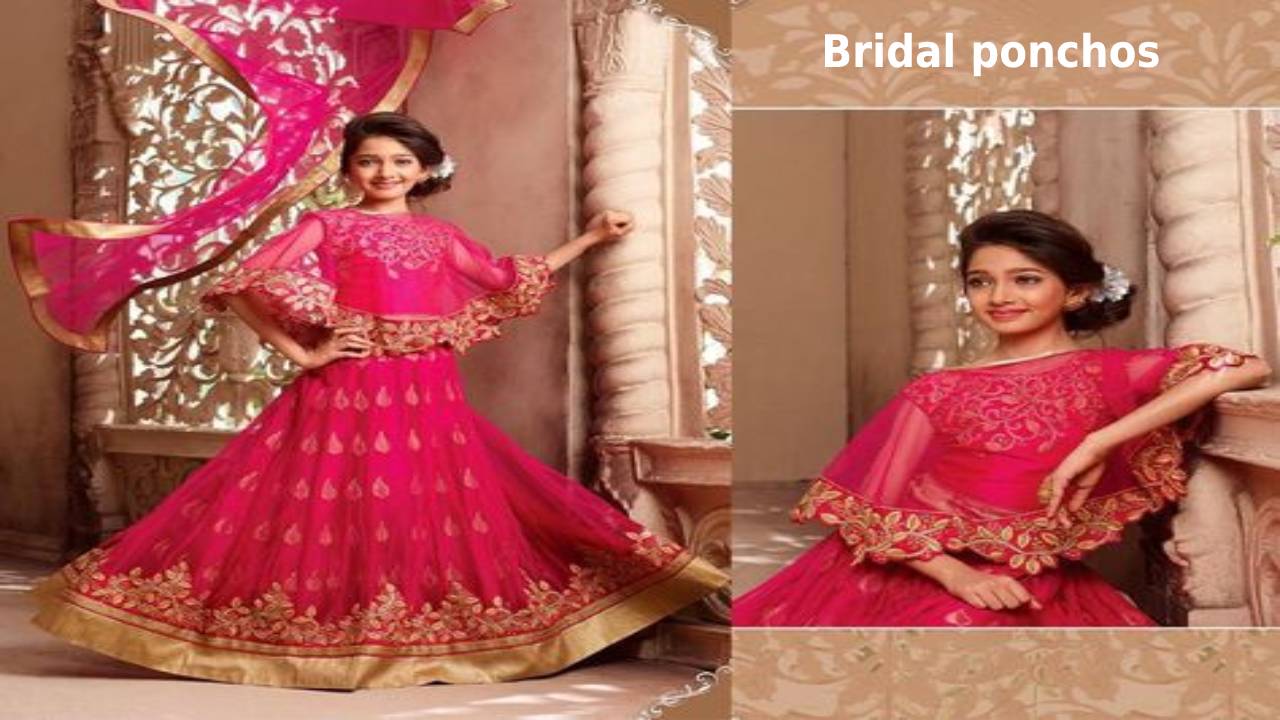 3. Designer ponchos
They amaze designers in the use of materials, decorations, colours. These ponchos emphasize the delicate taste of their owner.
Ethnic style poncho will be a fantastic thing in any fashionista's wardrobe.
Such a thing is universal. Bright ethnic patterns in the Indian or Latin American style remain in fashion out of time.
4. Seasonal Poncho
The Poncho of seasonality uses various materials and fabrics. Thus, wool, tweed, costume fabrics,
drapery, and knitwear.
5. Winter poncho
Basically, Winter poncho options are made of thick fabrics with insulation, podstezhkoy fur, sheepskin.
6. Beach fashion
Beach fashion actively uses ponchos as options for a light cloak and a worthy alternative to a beach dress.
These are lightweight, almost weightless fabrics that dry easily in the sun.
7. Hooded Poncho
The latest trend is poncho with hood for the offseason, winter, and summer, depending on the fabric.
Winter options are available with fur along the hem and along the edge of the hood, with a warm lining or
insulation of modern warming fabrics or furs.
Latest trends
Poncho styles are so diverse that each woman has her model, which perfectly fits her elegant image and wardrobe.
There are options for coats in the style of a poncho or models with fur and leather inserts. Warm and light knitted shawls have already become classics.
Designers do not stop experimenting with its variants.
One can now wear it with a belt, with a similarity of sleeves, with cutouts under the sleeves, pockets, asymmetrical cut, different lengths of hem and flare, collar, support or collar, etc.
The latest trends dictated the look with clasps, with a smell and various hem design options: fringe,  tassels, fur, triangular hem, rhombus-shaped, round hem, straight, figured, etc.
The latest trends dictated the look of a poncho with clasps, with a smell and various hem design options: fringe, tassels, fur, triangular hem, rhombus-shaped, round hem, straight, figured, etc.
The choice has become different
There are poncho-coats, which can quickly become an exciting substitute for outerwear in the cold season, right up to the winter frost.
Made with warm fabrics or wool, with classic colours. Such models are universal and suitable for all ages, as well as for men.
The transformers are gaining more and more fans due to the unusual cut and the possibility of transformation from one thing to another, using fasteners, neck transformation, etc.
It has become a prototype for furs made of different furs: astrakhan, mink, sable, beaver, raccoon, etc.
In addition to outerwear, it is available in poncho shirts, dresses and jackets.
Fashionable capes in various colours, from different materials of execution, became another type.
This cloak is comfortable and practical. It is convenient to take with you. It is easy to carry and care for such a model.
Material used
The modern Poncho is available in all kinds of materials, fabrics and their combinations.
A poncho made of knitted fabric has already become a classic. Warmer options use thicker materials such as drapes, fleece, wool, costume fabrics, fur, leather, etc.
Moreover, Summer ponchos are of thinner fabrics – linen, knitwear, light blended fabrics, chiffon, polyester, denim.
However, it can be a sheer poncho or a dress, a jacket, a shirt, a beach poncho.
A special place is occupied by elegant weddings and ponchos made of lace, satin, gas, silk. Such models give refinement and femininity, silhouette in flight.
Poncho with the spectacular cut of knitted elements, leather fringe, with inserts of contrasting fabrics, with lace elements, finished with fur, decorations of stones, beads and nets have become the novelties of the podiums.
Length Differs
Basically, the length varies depending on the style and style. A classic poncho can be up to mid-thigh or knee.
Warm, semi-seasonal options allow for below-the-knee, knee-length lengths. A poncho can be maxi-long, mid-thigh, just above the knees.
However, Poncho-jacket or cloak suggests a shorter length – just below the waist, in the middle of the thigh.
And also, even shorter can be an elegant poncho or wedding – to the core, just below the chest line.
A poncho of your favourite colour or shade is present for every girl, whether it is a lover of bright and multi-coloured combinations or adhering to classic colour schemes.
Ethnic patterns and patterns remain in trend to this day. Along with this, monochrome is in fashion, especially relevant in knitted ponchos, cashmere ponchos, wool and knitwear.
Lassic poncho-coats and capes are present in pastel colours, in rich monochromatic colours – blue, burgundy, green, black, white, all shades of brown, orange, blue, turquoise, red, etc.
Furthermore, young fashionistas, they offered bright coloured ponchos with unusual prints and decorations.
Contrasting colours are present in poncho patterns. A complex combination of colours – up to three or more, is also relevant and looks harmonious in a poncho.
Also Read: Yoyo Fashion – The perfect place to shop for Ethnic clothing, Easy to order
Lip Injections – Advantages, Results, How long does The Lip Filler Last?
Fantastic Acrylic Nail Ideas – list of Fantastic Acrylic Nail Ideas