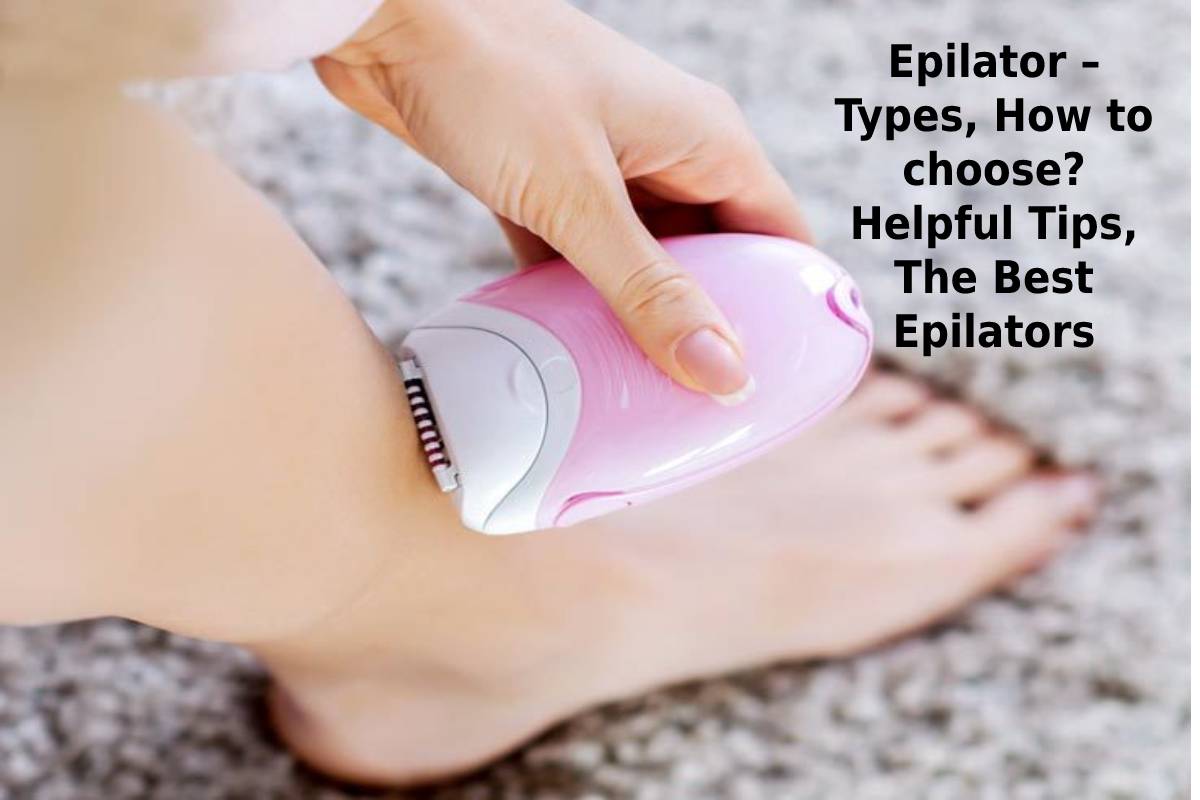 Epilator
Epilator is a small device that fits comfortably in hand. The main part consists of tweezers. They grab and pull out hairs in the direction of movement of the rotating head.
If you use an ordinary or rotary razor, the hairs grow faster and become noticeable. And the epilator pulls them out together with the root. Growth slows down, and a new bulb appears before four weeks.
The multi-tweezers system allows you to remove concise sections from 0.5 mm in length. Some models do 600-700 tweaks per second.
The most popular are two types of epilators
1. Disc Epilator
Products work by rotating discs. As they turn, they touch each other and catch the hairs, pulling them out.
2. Tweezers Epilator
The most common type of epilator is based on metal plates. They pinch, grab, pull and pluck the hair.
How to choose an Epilator?
Epilator – using discs or tweezers, removes hair from the body along with the bulb.
The advantage is that a long time is needed between the resumption of the hair removal procedure (although it may be different for each, depending on the organism's characteristics).
The disadvantage is that this type of hair removal is the most painful. An electric shaver for women is the most painless hair removal process, but the interval between repetitions of the procedure is short (2-3 days).
Female trimmer – mainly designed for hair removal in the bikini area, on the face, correcting eyebrows and shortening long hairs. Very compact and lightweight.
Helpful Tips to Get the Most Out of Hair Removal
Exfoliating before starting work will help prevent ingrown hairs. Shave 1 to 3 days before waxing. Waxing works best and is much more comfortable when hair is short.
It is best to wax at night because your skin may turn red after the session. By the time you wake up, the redness will be gone entirely. You are keeping your skin taut while waxing will significantly reduce discomfort. Always keep the epilator at a 90-degree angle to your skin.
It is not necessary to press the epilator against the skin. Instead, move the epilator in a circular motion in the opposite direction of hair growth. Go slowly. Moving too fast can cause hair to break on the surface instead of removing it from the root. Clean the epilator with the supplied brush and rubbing alcohol.
Here are the Best Epilators for every area from face to Bikini
1. PHILIPS PH-HP6570 Cordless Epilator (White)
If you need fast epilation without wasting time, then you can opt for the Philips HP6570. This model has a wide head for instant hair removal. But the advanced ceramic discs reliably grip and remove hair of all sizes. Active vibration technology also helps.
There is also a massage cushion that soothes the skin. At the same time, the backlight makes it possible to see even the tiniest hairs. The washable head is easy to clean directly under the tap.
2. Panasonic Shaver & Epilator for Hair Removal with Four Attachments and Travel Pouch, Wet/Dry, ES-ED50-N
The beautiful and elegant Panasonic ES-ED50 epilator will immediately appeal to women. It has a fairly compact and lightweight body, so it fits comfortably even in a small palm. There are 45 tweezers for effective gripping of hairs and even the finest ones. Smart LED lighting makes epilation easy.
The set includes 3 attachments at once, one of which has a removable comb. The double movable head allows excellent hair removal even in hard-to-reach places. It is worth noting an elegant cosmetic bag and a built-in battery, which lasts for 30-40 minutes of continuous use.
3. BRAUN Silk-Epil 9 9-521 Epilator
Braun epilators, the Silk Epil 9 has a wider epilator head to remove more hair in one stroke and seven attachments to switch between the face, body, and sensitive areas.
After charging with the supplied cable or battery, you can use Silk Epil 9 on dry skin or in the shower.
Braun has several models to prove that it is the best brand in its category.
4. EMJOIE Dual Tweezer Head Epilator
Seventy-two tweezer heads rotate in opposite directions to remove more hair in one stroke, while its "lift a finger" technology works to lift and remove shorter hairs.
This means capturing more hair, each one with fewer strokes, making it a good candidate for those with a lot of hair or a lot of beards. In laboratory tests, one reviewer said, "This epilator removes more hair faster and is lightweight and easy to use."
5. Remington Smooth & Silky Deluxe Rechargeable Epilator, Purple, EP7030E
It is a rechargeable epilator that has a built-in light so you can find every single hair.
At a reasonable price, it seriously can't be beaten. It's cordless and removes hair comfortably via 40 speedy tweezers.
Also Read:  Backpacks for Women – How to choose? Types and Features