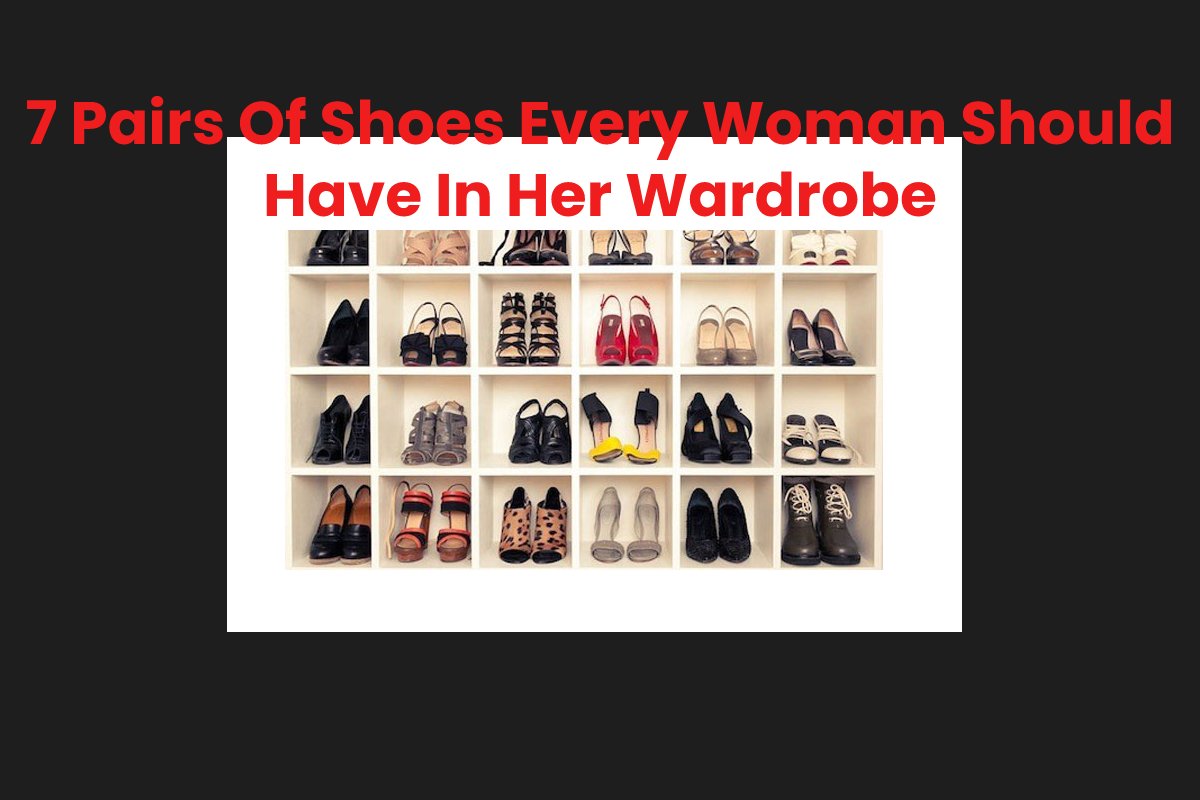 7 Pairs Of Shoes Every Woman
"The average woman falls in love seven times in a year.
Only 6 are with shoes."
· Kenneth Cole. Fashion Designer and Philanthropist.
Women and shoes are a love story waiting to happen, provided it has not already. Shoes can make women feel anything they want.
If you want to be taller, or more glamorous, sexier, or confident. No matter what you aspire for, a certain style and pair of shoes can help you.
Confidence is something that a lot of women who love buying refer to. It helps you feel good about your look, who you are, and how you want to be received by someone else.
There is no doubt that shoes are the number one accessory for women, period!
In this blog, we are going to look at some major styles of shoes for women. Specifically, we are going to list down seven pairs and styles of shoes every woman should have in her wardrobe.
However, we get to the list of shoes, let us first try to answer a question that is on everyone's mind- why do women love shoes?
· Women and Shoes: Love at First Sight!
For a very long-time experts have tried to find an answer to the above question. Let us try to look at three scientifically proven reasons for the same.
· Buying Shoes Releases Dopamine
If you do not know what dopamine is, let us tell you. It is a chemical hormone that is released in the brain that helps you elevate your mood, or feel happy.
According to branding experts, Martin Lindstrom, buying a new pair of shoes releases dopamine in the brain.
You can compare it to taking a drug that helps you elevate your mood and happiness levels. Next time you buy a pair of new shoes pay attention to this aspect.
· Stimulates the brain's 'collecting spot'
Researchers like Suzanne Ferriss, Ph.D., point out that buying new shoes has a definite impact on the brain.
Her studies elaborate how the prefrontal cortex of the brain lights up every time you buy a new pair of shoes.
She specifically mentions this area as the 'Collector's Spot'. You must have noted a lot of women collect shoes as art pieces. They store them in the way someone stores something valuable.
· Connected with Woman's Biological Needs
Ever wondered why heels or stilettos make women feel sexier? No Louboutin is not at work here. It is in fact, basic biology.
Wearing heels or stilettos makes a woman's body shape change. For biologists, this shape (arched back, tucked up the butt) is called 'lordosis'.
It is a primal mating pose aimed to attract the best suitor. Hence, buying a shoe is biologically related to the genetic make-up of women.
List Of 7 Pairs Of Shoes Every Woman Should Have In Her Wardrobe
1. Black Booties-
You might have heard about why every woman should have an LBD (Little Black Dress) in her closet. Well, you might want to add LBB to the list. Little Black Booties can be teamed up with anything. A nice tee and jeans, or even formal wear. Make sure to go for black booties that come up to ankle length and have heel heights that will not trouble you.
2. Stylish Mules-
Did you know that the iconic Marilyn Monroe loved mules more than any other style of footwear? With a history dating back to Roman times, mules are a stylish alternative to flip-flops during summers. There are so many different patterns, styles, and varieties when it comes to Mule shoes. This is a must-have in the wardrobe of any woman in 2021.
3. Strappy Lacy Sandals-
Women who want to highlight the beauty of their ankles can opt for strappy lacy sandals. They ooze sensuality and can be paired with anything from jeans to palazzos and even leather pants. These are great for wearing during the summertime when heat and sweating can prevent your feet from breathing. If you want to look better effortlessly, you need a pair of strappy sandals.
4. Knee-Length Boots-
Leather, woolen, or cloth, the knee-length boot is a shoe style that every woman aspires to own. In this case, the height of the boot's heel does not matter as far as the length of the heel does. If you are looking to make a stylish, sexy, and sleep appearance, you cannot go wrong with a pair of knee-length boots. These add the chic factor that so many of us desire in our styling.
5. Platform Heels-
Gone are the days when platform heels were only used by women for a sense of comfort. In 2021, platform heels have evolved into chunky oversized and gorgeous style statement pieces. Platform heel can be paired with anything from a skirt to a pantsuit. They are available in multiple styles, colors, and open-toe options. Add to this the comfort and you have a winner!
6. Stiletto Boots-
Every woman wants to feel taller, slimmer, and sexier every once in a while. Stiletto boots give some kind of an optical illusion that makes the wearer's legs appear longer than they really are. The feet look smaller and the posture improves drastically. It helps with an arched back and enhances the bust and buttock sections of the female form. Perfect for those date nights.
7. White Casual Sneakers-
Simple, casual, and comfortable, there are days when you want to enjoy the convenience and comfort of a pair of white sneakers. Try teaming them with a pair of flared jeans and some crop top. If you are looking for a perfect laid-back kind of vibe, you cannot go wrong with a pair of classic white sneakers. There are tons of options for you to choose your perfect pair.
The Bottom Line
There you have it. Seven pairs of shoes that every woman should have in her wardrobe. No matter what the occasion, event, or weather condition, there should be a shoe to bring out your best. When it comes to shoes, no compromises can be made.
Do you think we have missed out on any must-have style that you should have in your wardrobe? If you think so, place your answers in the comments section below. We would love to hear from you.