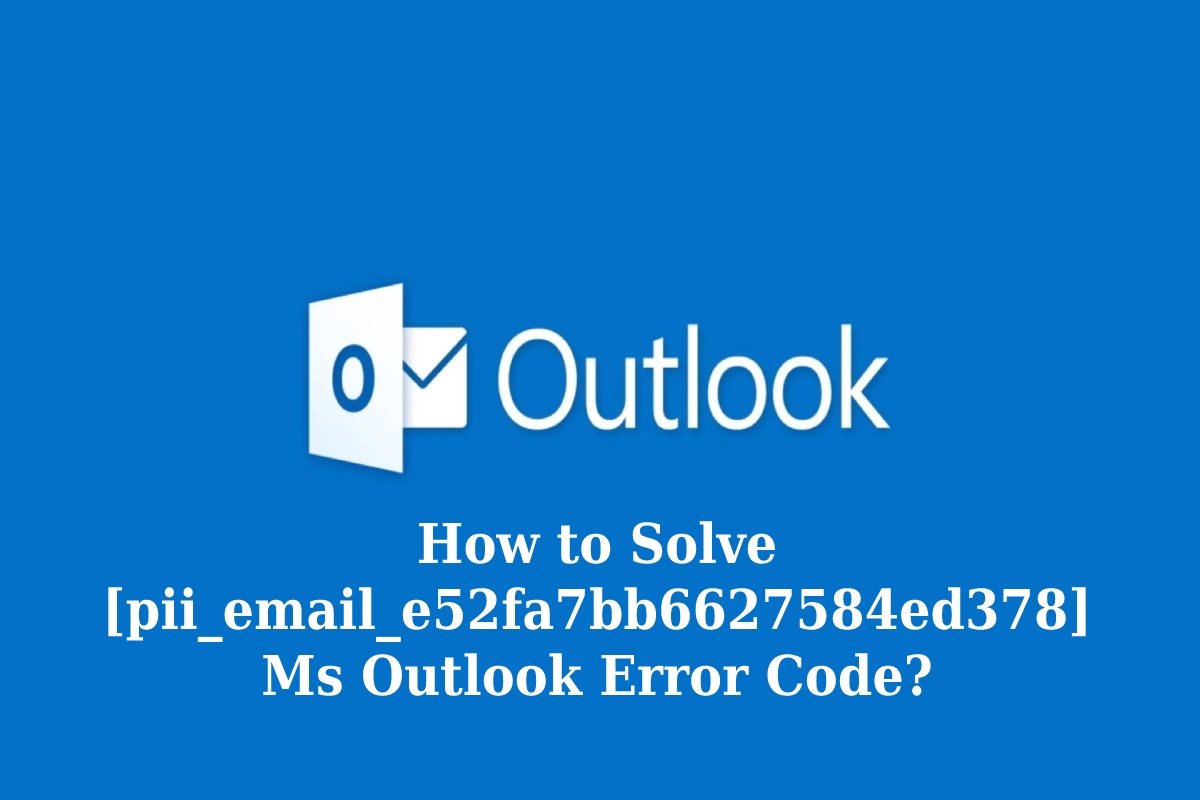 pii_email_e52fa7bb6627584ed378 Error Code: Among Microsoft Outlook's topographies is its own corresponding administration program. Like client or consumer accounts, you are able to organize your mails Using Ms Outlook.
Business operations claim a flow of communication Staff queries, sales requests, management accounts, etc. But you challenge the error codes like the one that is [pii_email_e52fa7bb6627584ed378] we attempt to reveal of resolving the mistake the way.
If you find that [pii_email_e52fa7bb6627584ed378] error code It usually means your Outlook is not functioning. What is the remedy that is correct to prevent the error code? We reveal four procedures.
Does [pii_email_e52fa7bb6627584ed378] malfunction happen?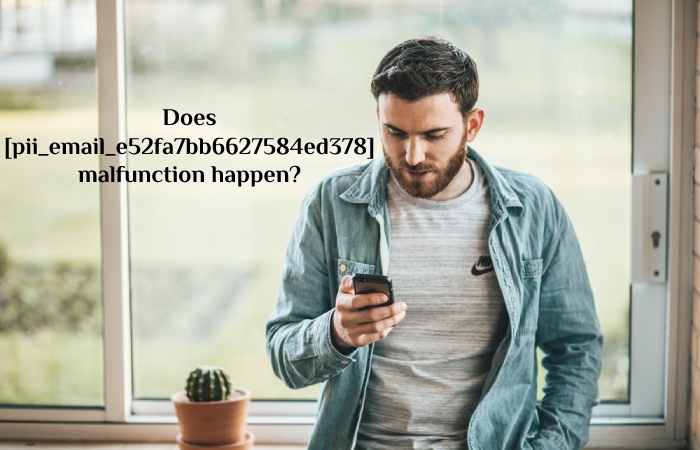 [pii_email_e52fa7bb6627584ed378] mistake may occur due to some setup procedure. Or even the Microsoft Outlook and email reports or programs installed on your computer may brawl. This might be one cause behind a model of prediction or your PC might not inspire the outlook version that is currently present.
The cause for the fault could be that you are currently using multiple outlook accounts also it may be a problem without emptying the cache.
Yet another reason to prevent this mistake is that you need to use MS Outlook's internet version program.
Occasionally the [pii_email_e52fa7bb6627584ed378] mistake when installing the program caused.
Another reason to avoid this error is that you need to use the Internet version program of MS Outlook.
Occasionally, the error [pii_email_e52fa7bb6627584ed378] occurs when installing the program.
You will need to uninstall Busted if this is the release version of Outlook and [pii_email_8c96c1c23f5914dd67d1] error then reinstall and update it.
If you are still having trouble related to the error, contact Microsoft for instructions.
Related Articles:
How to Fix [pii_email_632dbc9f9aa7f38a8155] Error Code in Outlook
Solutions to Fix [pii_email_07cac007de772af00d51] Outlook Error Code
The Best ways to resolve error code [pii_email_e52fa7bb6627584ed378] with simple steps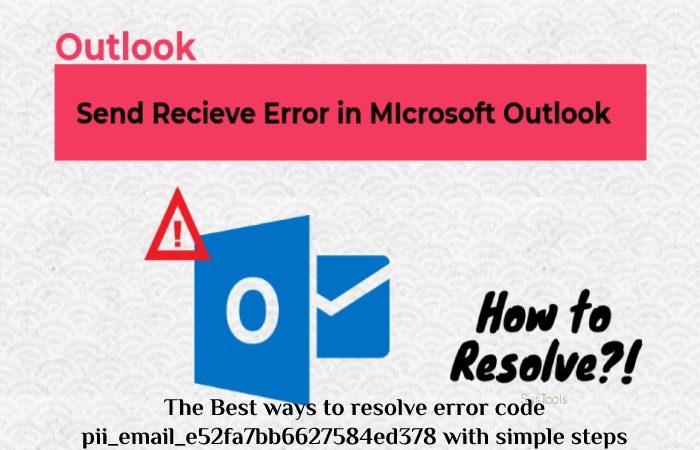 1. Update to the latest version of Microsoft Outlook.
2. If your PC is up to date, prevent this error from occurring. You should try Microsoft Outlook on the operating system versions.
3. Consider using the Internet edition of Microsoft Outlook.
4. If you currently receive software from the computer with accounts that run programs, here are some things to do
Log out of all accounts
Clear cache
Login to your accounts
5. There are two possible reasons for this error pii_email_e52fa7bb6627584ed378.
Damage to the Outlook program along with additional email accounts
Various applications are installed on your PC
6. The final measure to repair this particular error pii_email_e52fa7bb6627584ed378 follows the steps below.
Remove previously installed corrupted version of Outlook applications on PC
Download the perspective from the authorized website.
Finally, install the newest version in MS Outlook.
Related Articles:
How to Fix [pii_email_8e90db124b2282f8e586] MS Outlook Error
How To Solve [pii_email_f471d3ee8613f77bd6e2] Error?
Conclusion
We hope this has been resolved and resolved by your error code pii_email_e52fa7bb6627584ed378 which appears when you follow them. If you still cannot fix or correct the error, the problem may be more serious.
All you have to do is contact the Microsoft Outlook team to fix the problem.
Also Read: How to resolve [pii_email_5b2bf020001f0bc2e4f3] error code in 5 Steps?
Related Searches:
[pii_email_019b690b20082ef76df5]
[pii_email_027301e7af80ce24cbce]
[pii_email_029231e8462fca76041e]
[pii_email_07e5245661e6869f8bb4]
[pii_email_0cbbda68c705117dc84f]
[pii_email_1606b61a08e6a2cf4db9]
[pii_email_3ceeb7dd155a01a6455b]
[pii_email_4bd3f6cbbb12ef19daea]
[pii_email_4dd09cddea0cd66b5592]
[pii_email_5b2bf020001f0bc2e4f3]
[pii_email_844c7c48c40fcebbdbbb]
[pii_email_84e9c709276f599ab1e7]
[pii_email_8fac9ab2d973e77c2bb9]
[pii_email_9adeb2eb81f173c673a5]
[pii_email_a5e6d5396b5a104efdde]
[pii_email_aef67573025b785e8ee2]
[pii_email_af9655d452e4f8805ebf]
[pii_email_bbc3ff95d349b30c2503]
[pii_email_bc0906f15818797f9ace]
[pii_email_be5f33dbc1906d2b5336]
[pii_email_c0872b2275c5451a2577]
[pii_email_cb926d7a93773fcbba16]
[pii_email_cbd448bbd34c985e423c]
[pii_email_e1aa8f4deb45ecd93b2a]
[pii_email_e6685ca0de00abf1e4d5]
[pii_email_ea7f2bf3c612a81d6e28]
[pii_email_ec4f22c28919a953e74e]
[pii_email_f3e1c1a4c72c0521b558]
[pii_email_fac20b28ca7fd86484f1]
[pii_pn_ebd5ba93a442b75d]
[pii_pn_f030f8fd5cc2eede]
[pii_pn_f0704486c0dc6881]
[pii_pn_f9c73af0cb83cca6]
blackberry passport [pii_passport_a992764331125c0c]
blackberry passport [pii_passport_a992764331125c0c]
[pii_email_a427253221614b6547d5]
[pii_email_5af894fdb8e5b9416fb1]
[pii_email_80fb90b73f6b386e57ff]
[pii_email_623b1640f5f21026ae5d]
[pii_pn_65a8ae23bf162bd3]
[pii_email_5c337b21d255f533]
[pii_email_4dd09cddea0cd66b5592]
[pii_email_9ba94c086590853d8247]
[pii_email_4dd09cddea0cd66b5592]
[pii_email_a6c33e836c8e4c0dc6aa]
[pii_email_c75373ce5b34bf577425]
[pii_email_33bcc5fa9284de56eb3d]
[pii_email_8953fcff2f2c1d49fbad]
[pii_email_e147cf3510887c53b5ed]
[pii_email_5f989e2fb5d007bf52e0]
[pii_email_8c96c1c23f5914dd67d1]
[pii_email_5c337b21d255f533]
[pii_email_9086bb4df076fa685059]
[pii_pn_00a8b0aba07eb904]
[pii_email_75551be3aa765c0b6139]
[pii_pn_78e47feb8573cc50f86b]
[pii_email_b2569c473e720785c0be]
[pii_email_e656b64f88edb855db37]
[pii_email_5b2bf020001f0bc2e4f3]
[pii_email_4c21aede2e6a0dfecb86]
[pii_email_a5e6d5396b5a104efdde]
[pii_email_1606b61a08e6a2cf4db9]
[pii_email_cd4b80dbd951adb0d4dd]
[pii_email_18cba724d6b1f1e4]
[pii_email_c289ee54d003db0c]
[pii_email_acd77492efc0a21025eb]
[pii_email_1606b61a08e6a2cf4db9]
[pii_email_8953fcff2f2c1d49fbad]
[pii_email_5b2bf020001f0bc2e4f3]
[pii_email_4963ef873adfeebdcd41]
[pii_email_bc0906f15818797f9ace]
[pii_email_4963ef873adfeebdcd41]
[pii_email_4c21aede2e6a0dfecb86]
[pii_email_dfe907e4982308153863]
[pii_email_9adeb2eb81f173c673a5]
[pii_email_e6685ca0de00abf1e4d5]
[pii_email_16f7c3d5e03f4b308aa0]
[pii_email_16f7c3d5e03f4b308aa0]
[pii_email_9adeb2eb81f173c673a5]
[pii_email_20a3820a5169c76966a1]
[pii_email_3a4de1ed75a7e06d7e60]
[pii_email_5b2bf020001f0bc2e4f3]
[pii_email_9adeb2eb81f173c673a5]
[pii_email_a32d8b04996f6ae8eeb0]
[pii_email_adba8ec29bf46a0e5af1]
[pii_email_dfe907e4982308153863]
[pii_email_e6685ca0de00abf1e4d5]
[pii_email_e6685ca0de00abf1e4d5]
[pii_email_fb3a592541f578be054a]
pasaporte argentino [pii_passport_eeb97d1d8232b8b1]
[pii_email_03e77cb12cc4716a2a15]
[pii_email_03f4a0eeae8484e189e8]
[pii_email_0a2a355eebfea6b9c921]
[pii_email_0b0e22a839631a1394a8]
[pii_email_0cd81888a5fe7246075b]
[pii_email_1606b61a08e6a2cf4db9]
[pii_email_1606b61a08e6a2cf4db9]
[pii_email_170f48204c9bdf9eafd2]
[pii_email_1831b7c77a35fe5277ef]
[pii_email_1f59b478e2752c0b8774]
[pii_email_20805ae68021cfd0c123]
[pii_email_26b0babaf23b7ef6]
[pii_email_2db267d041bc39cf]
[pii_email_2db267d041bc39cf]
[pii_email_324653cf0746e811f715]
[pii_email_33bcc5fa9284de56eb3d]
[pii_email_37f47c404649338129d6]
[pii_email_3b193aea73a675bf6145]
[pii_email_3ca22155a0589f8ed0af]
[pii_email_460c7120679d4986]
[pii_pn_30128359354db572]
[pii_pn_e86f3e1204164bd8]
[pii_pn_80992c904c8b0a42]
[pii_pn_eae599f38c0676ed]
[pii_pn_c0570bab2c4cd46b]
[pii_pn_0fdebdad7cb59361]
[pii_pn_1eb162cda1a63f34]
pii_email_4dd09cddea0cd66b5592
[pii_pn_f1aae428989512bf]
[pii_pn_cbad6efaaf86308f]
[pii_pn_27597fb89d5c3a11]
[pii_email_c44daf3db584541df034]
[pii_pn_463d2b684a0a97ff]
[pii_pn_94dd2691572e8772]
[pii_pn_9f4c79a436509625]
[pii_pn_55cf079599d15e2e]
[pii_pn_8fc29cb432509689]
[pii_pn_a3bbd74ab205aebf]
[pii_pn_a8af724b4dcaacc2]
[pii_pn_bb632f63e6f0ee0f]
[pii_pn_a649c60ac8be312b]
[pii_email_2cbb7f11f01eeab314aa]
[pii_email_3366d1e3a6f49edb5169]
[pii_email_dfe3cf3209d9aaaf6d66]
pii_email_4dd09cddea0cd66b5592
[pii_pn_7b5c87b3571b2841]
[pii_pn_4aa8708e14f7dcd4]
[pii_email_7a21a39598eeee5233be]
pubg mobile [pii_email_4c599dd17aabe5c9238d]
[pii_pn_830292562ea03833]
[pii_pn_9bb5035d15266c69]
[pii_pn_4db60d6494633530]
[pii_email_12d41ada18ab0d31]
[pii_pn_a49659d25199afb9]
[pii_pn_eef44f296dbb8608]
[pii_pn_b46fd3515861e012]
pii_email_4dd09cddea0cd66b5592
[pii_pn_9a7e5565beadbc77]
[pii_pn_457bf47cb732727c]
[pii_pn_f4e6550a7a20e081]
[pii_pn_df430e518f67e67c]
[pii_pn_081f97f2e0883eac]
[pii_pn_1c5f52c20f274a99]
[pii_pn_21e4436c2c750b11]
[pii_pn_32cf167bb27bc571]
[pii_pn_221b20a2046ee870
[pii_pn_c893c547f7ccfc97]
[pii_email_09c625b0f54cbc2e5746]
[pii_email_58a6a619fc3ea359fade]
[pii_pn_ff3ea3d70815d231]
[pii_email_8f18258dc1b36618360a]
pii_email_4dd09cddea0cd66b5592
[pii_email_6815f7bf7c5658248ead]
[pii_email_b10021fffd36b6c57aff]
[pii_pn_a309755e60e68aed]
[pii_pn_26d6c808c4940f5a]
[pii_pn_0669a9585e8a24e7]
[pii_pn_653de77147bbb3ca]
[pii_pn_707b7afb0626194d]
[pii_pn_4b66a60bd366438b]
[pii_pn_d165133e769447b3]
[pii_pn_bc622e0872696b21]
[pii_pn_15608a3ca5d8a63f]
[pii_pn_4a7cda7ed9048cb0]
[pii_pn_9ef6242bea1a4634]
[pii_pn_33ed7d4901506fb6]
[pii_pn_5e3656310ff0995b]
[pii_pn_bc5a9b5d02c32fa8]
[pii_pn_314ca699b48691c0]
[pii_pn_73da4a4f9ab02445]
[pii_pn_45c1f34aafe1f4e5]
[pii_pn_4fa557cca14363ec]
[pii_pn_9b72d852fa803cbb]
[pii_email_95e3d95939b7c086c3ab]
[pii_email_6db62fb3f1aa83bd2e0a]
[pii_pn_fed9af3a34e608d7]
[pii_email_9848f1804272c9b4eaf4]
passport requirements [pii_passport_a992764331125c0c]
[pii_email_1d0a7b8b7bc517bcc729]
[pii_email_57bde08c1ab8c5c265e8]
[pii_email_fbfd5d78693fd0b03741]
[pii_email_4dd09cddea0cd66b5592]
[pii_email_7cc4c1036b3de58e1c72]
[pii_pn_0517eb15f9f0c7b0]
[pii_pn_6a0fb39258490524]
[pii_pn_baadcf87c1bec37f]
[pii_pn_202f0062e3a9eba7]
[pii_pn_9bd080d5e358df32]
[pii_pn_7ab7c00e23412f17]
[pii_pn_e13d9b375c02f502]
[pii_pn_48099e940544f41c]
[pii_pn_eb9117fef4c43cd9]
[pii_pn_60d4e6c18f72c804]
[pii_pn_10a1046621cbbd18]
[pii_pn_d09ef13ad44ba3b9]
[pii_pn_65fac9e34d41ed91]
[pii_pn_b9bb4f37fe2d7c63]
[pii_email_a32d8b04996f6ae8eeb0]
[pii_pn_19cff4d0fbfef971]
[pii_pn_6cf449519ddf258c]
[pii_pn_1b277654f8a12e2c]
[pii_pn_a746a055e2aa8260]
[pii_pn_c592f24ce51ad9b7]
[pii_pn_3f90cc65de3efb9a]
[pii_pn_f1de5ed018ca4655]
[pii_pn_f5347b0c813c0051]
[pii_email_1a85c09ee7a236c446b6]
[pii_email_ffa4dae37cdfac16e8d7]
[pii_email_fc52c843021e7f39d423]
[pii_email_5553f4e1b087aa7bb88b]
[pii_email_53d8fb431ca7df16bb36]
[pii_email_802a5f65218f5d9d23b7]
[pii_email_b50f2487ad88cad5488f]
[pii_email_0a5062fb70a2a343f369]
[pii_email_e22b23fa9dff05c94424]
[pii_email_7626800840576d24b18c]
[pii_email_8f11625d0a000b277df2]